Thank you for helping us bring to close another successful fund-raising year in which we hope to gather around £18,000 for worthwhile causes, to date making a total of £120,000 since we started in 2005.
However the Breast Care Unit in Llanelli continues to be our main beneficiary and we are delighted that Mr Holt was awarded the MBE which recognised his achievement to make his department at Prince Philip a centre of excellence and be ranked as one of the most modern centres in Europe.
In February 2012 we donated £10,000 to Prince Philip towards the upkeep of high-tech equipment at the clinic, and further £5,000 to local charities and the SW Wales Cancer Trust at Singleton Hospital.
The Annual Ribbon Race continues to be our main source of revenue, as well as providing us with a day of much merriment. But I must again pay tribute to the operators, one in particular who wishes to remain anonymous gave £1000. Hayden and Christine at the Testing Station for their continued support and for collection a further £5,425.77 again this year. Money was also earned by manning stalls the Party On The Pitch, Tycroes and Betws In Need Charity Events.
We would like to ackowledge the following donations from Castell Howell, Brecon Water and Ty Nant water for providing the refreshments, Melanie from Margaret Street Chemist, Pantyboblem "young" ladies Tycroes for their "coppers", Tycroes Junior rugby side and Penybanc Whist Club. Roland Danter & Brian Roach, for the photography at the Ribbon Race, Lynne of Shoppers World for the balloons he generously provides each year, Betws in Need, Penybanc RFC for the use of their club and everyone who has donated, and last but not least John Bach for his part in making up our calendar.
There's also Lorraine Lewis who raised a total of £850 for our appeal again this year. Lorraine has raised a fantastic sum to date!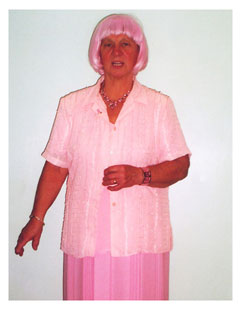 The Supporters group is also ongoing with around ten of us meeting up on the last Wednesday of each month at Penybanc RFC. Anyone wishing to come along will be made welcome.
On a more personal note, we are delighted to hear that Jeanette Rees is recoering well after having surgery earlier this year, and we wish Alison Jones and Amanda Worth who are both undergoing chemotherapy at the moment, all the best.
As you probably know, I was awarded BEM in the recent Honours list which recognised the contribution of our charity to the local community.
It was an unexpected honour which reflected the diligent work of our hard-working committee and on benhalf I would like to thank you for your generosity, time and expertise.
We wish you all a Happy and Healthy New Year and look forward to your continued support in 2013.
Diolch
Sue a Ffrindiau