How we started:
In July 2004, I received the shattering news that I had Breast Cancer.
Words cannot describe the impact that the diagnosis was to have on me and my family and we were engulfed with negative thoughts regarding the future.
I turned to friends who had also experienced this trauma and their anecdotal details of how they had overcome their problems and gave me great encouragement for the battle that lay ahead.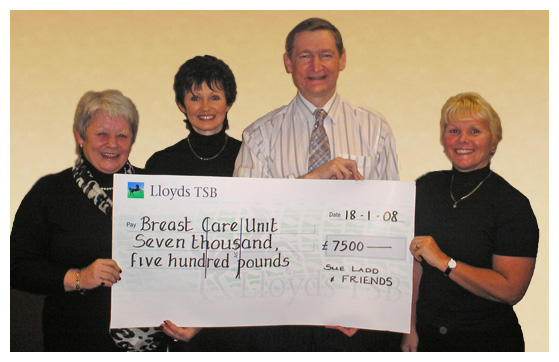 Space does not allow me to detail the outstanding support I received from the breast care nurses in Prince Philip Hospital throughout my treatment and eight months after my operation and subsequent chemo and radio therapy at Singleton Hospital I was able to return to work.
There are many ways you can react to this experience but I felt I had to do something positive such as fund raising. This was to have a two-fold motive: raising money for Prince Philip and Singleton as well as raising public awareness of this condition.
I have received fantastic support from the venture from my colleagues at work, from Pen-y-Banc rugby club and from friends whose lives had been touched by cancer. The main fund raiser was the sponsored Ribbon race and this together with the other events helped us to hand over £7,100 to the two main beneficiaries in October last year. This year's fund raising promises to match last year's efforts if the income from the sale of this calendar and the October auction are added to the proceeds of the 2006 Ribbon Race. To all those who have helped, particularly my colleague Hayden Morgan who has collected £2,500 from various sponsors, we give our thanks.
In conclusion, it is my wish, with the help of friends, to continue raising money to fund research and treatment of the disease and in so doing perhaps we can all learn how important it is to support one another and enjoy the cameraderie that follows such a fellowship.